Hellow, I just read your recruitment thread and found it complete and interesting, also after watching some of your pvp videos, which I really liked, I decided to make this application, there we go

Ingame Name : Frozen
Class : I would start with sps, but I can play whatever class is needed
How long have you been playing L2 : Around 3 years
Do you have a working microphone : Yes
prior Clans : Genocide, LayLow, and CPmade clans
prior Servers : rpg club 5x, rpg club 15x, l2dex Arion
your Language : Italian
your Country : Italy
Timezone : gmt +1
your Age : 18
How active you are : How much it's needed for the CP or clan, I finished my studies so I'm completly free.
Are you able to play lowrate and highrate servers? : I am
Are you able to follow, no matter what? : I do
Are you able to be online for Epics/Sieges : I won't miss one
What you like in our Clan : Your gameplay shown on videos and you look to be so united
Have you read and understand the Clan Rules : I've
How would you define the word - loyality? : Trust and respect
How can we contact you out of the game : msn, skype
Describe yourself with some words : I do my best for be helpful with my friends, I like challenges, I like fair united people who trust each other, and l2 related, I hate zergs, in my 3 years of l2 I always played in undernumbered groups, that's what I enjoy the most of l2.
What else you want to tell us : I would like to make a clearify, I made the application for myself, but if it's possible, we would like to join as CP.
We're going to be mage oriented party, only trusted, experienced and nice players are with me, if you'd like to know them also, we're going to make a chat reunion tomorrow 2-3 hours before server opening.

Good luck for tomorrow ^^


dement




Posts

: 135


Join date

: 2011-01-04



my question is "we would like to join as CP." who is actually "we" ?
_________________
Once a StripClubber...
                ...Always a StripClubber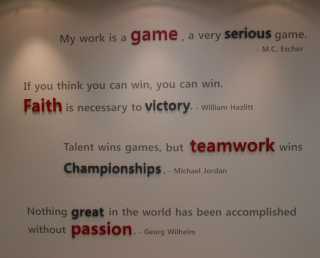 well I think a well organised party of mages, would be a nice aid for a clan, they know how to play with each other so your expirience would be really helpful, tho I wouldn't like your party to be shut for the other members, so helping a clan is one of the major priorities, as for your friends, tell them to write an application, since group apps are not taken into consideration, tho as far as I see it now, it's +1 from me

lagoonpl




Posts

: 353


Join date

: 2010-03-07


Age

: 28


Location

: Poland



@MrPwNz, as "we" I mean my CP, the one with who I played on both rpg club servers, we're organised and used to play on organised top clans, sadly our last clan isn't going to play on this server, that's why we're looking for one and yours fits us the best.
@lagoon, Well, they hate making apps
That's our first time "asking" for a recruitment, since we were always starting a server with designed clan already.
Tho, if it's strictly needed, they will make it, but I'm sure you'll prefer to see us in action today
Our starting setup will be, 2 bishops, 1 OL, 1 necro, 1 sph, 2 sps, 1 sorc and a sws mainly for windstorm.
Since we didn't play old renewall, and we don't exactly know how classes work, we could change the setup anytime for fit server the best, this is just our start.
I hope I answered of all of your doubts, for futher clearing, my msn contact if you'd like talk with me and with my CP, is
sciarbo4ever@hotmail.it
Frozen wrote:@MrPwNz, as "we" I mean my CP, the one with who I played on both rpg club servers, we're organised and used to play on organised top clans, sadly our last clan isn't going to play on this server, that's why we're looking for one and yours fits us the best.

@lagoon, Well, they hate making apps

That's our first time "asking" for a recruitment, since we were always starting a server with designed clan already.

Tho, if it's strictly needed, they will make it, but I'm sure you'll prefer to see us in action today

Our starting setup will be, 2 bishops, 1 OL, 1 necro, 1 sph, 2 sps, 1 sorc and a sws mainly for windstorm.

Since we didn't play old renewall, and we don't exactly know how classes work, we could change the setup anytime for fit server the best, this is just our start.

I hope I answered of all of your doubts, for futher clearing, my msn contact if you'd like talk with me and with my CP, is

sciarbo4ever@hotmail.it
+1 for dat guys
but dont exp a sws, if you havent started yet cuz we have an aio with windstorm, its not needed

Nero




Posts

: 32


Join date

: 2010-07-05


Location

: Germany



---
Permissions in this forum:
You
cannot
reply to topics in this forum